PSIdelines- Employee Newsletter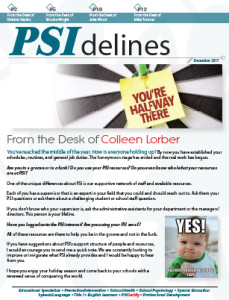 PSI wants to do its part to protect our fragile environment. Therefore, we will be placing more and more documents online to make it easy for you to access PSI material and to do our part to be environmentally sensitive.
PSIdelines will be available online with each new edition. It is important that all PSI staff review each issue of PSIdelines, as it contains not only useful professional information but also important employment information that you need to know.
Editions are available in PDF format for your viewing convenience.
A special note for PSI employees, as a member of PSI you are entitled to receive a discount at Verizon.
Verizon discount for PSI employees PDF contains specific details.
Click below to view editions of PSIdelines….
Now Available: