Prevention & Intervention Initiatives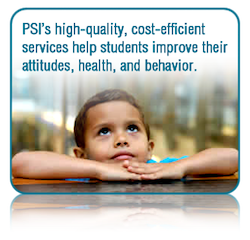 PSI's Prevention & Intervention initiatives have been implemented in over 200 schools yearly throughout Ohio, have touched the lives of more than 75,000 students since 1991. Research-based programs are offered for all grade levels, K through 12, and can be designed for a wide array of time parameters, including after school.These are both nationally recognized programs and unique PSI programs, with the curriculum and trained professionals to give personalized attention to gain success.
Initiatives
1. Life Skills Training Program: Laying the foundation for students to succeed
Chosen as an exemplary program by the Safe and Drug Free Schools Expert Panel, Life Skills focuses on building self-esteem, decision-making, communication, assertiveness training, and social skills. Research-based protective factors proven to reduce tobacco,  alcohol and other substance abuse are implemented.
Methodology: Designed for 3rd and 4th grade students in nine weekly sessions.
2. REACT: Managing Anger and Conflicts Successfully
REACT develops skills to reduce incidents of gossiping, taunting, and bullying. Other components include anger management, conflict resolution, successful decision-making, and problem-solving.
Methodology: Designed for 4th and 5th grade students in twelve weekly sessions.
3. Aggressors, Victims and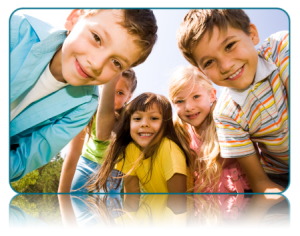 Bystanders: Bullying is no longer cool!
This initiative, chosen as a promising program by the Safe and Drug Free Schools Expert Panel, develops skills in the following areas: empowering bystanders to act responsively, improving middle school discipline and reducing potential violence. Special emphasis is placed on how the three roles—aggressors, victims, bystanders—contribute to the cycle of bullying, disruptive behavior, conflict, and violence.
Methodology: Designed for 6th and 7th grade students in twelve weekly sessions.
4. Teens Resisting Violence: Safer teens, safer schools
Dr. Scott Poland, member of the National Emergency Assistance Team and former President of the National Association of School Psychologists, endorsed Teens Resisting Violence. This program teaches safe responses to threats and weapons, promotes skills to peacefully manage anger, reinforces anti-bullying behavior, empowers students to stop violence before it starts, and develops awareness of the societal effects of aggressive misconduct.
Methodology: Designed for 7th and 8th grade students in nine weekly sessions.
5. Successful Teen Living: Healthy teens—Safe teens
The focus is on improving school climate and safety, expanding knowledge of tobacco, alcohol, and illicit drugs and their effects. The curriculum includes components for developing a mature understanding of teenage relationships and improving both decision-making skills and assertive behavior.
Methodology: Designed for 7th and 10th grade students in a nine-to-fifteen week, flexible program
6. Pro-Peer Pro-Peer Training: Team building for student leaders
Pro-Peer empowers students to act responsively, improve discipline and school climate, and reduce the cycle of bullying and violence. There are two sub-programs. Peer Mediation is where leadership skills are developed as students learn to mediate the conflicts of their peers. Team Building deals with active listening, rapport-building, and problem-solving. Students become positive role models for the younger ones that follow.
Methodology: Designed for 7th through 11th grade, one day training of six hours for 10-30 students.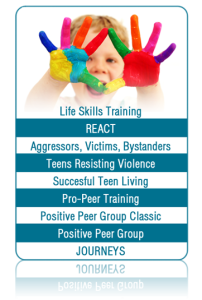 7. Positive Peer Group Classic: Engaging students to school
Intended for at-risk students in a small group setting, Positive Peer Group Classic fosters positive identification, developing social skills and character traits, and taking personal responsibility. Other facets include managing conflict, bonding to the school community, and strengthening academic goals.
Methodology: Designed for 6th through 11th grade, 10 to 12 per group, in twenty weekly meetings.
8. Positive Peer Group: Anti-bullying program
Geared for whole classroom instruction, this program fosters identification with a positive peer group, makes bullying unacceptable in students' eyes, and builds personal and social responsibility. Other components focus on managing conflict responsibly and bonding to the school community.
Methodology: Designed for 6th through 11th grade with fourteen weekly meetings.
9. JOURNEYS: Helping girls to safely navigate adolescence
JOURNEYS develops self-discipline for healthier lifestyles, teaches successful decision-making, independence skills, responsibility and the respect gained from the working environment. Developing confidence and self-esteem are also part of the program.
Methodology: Designed for 6th through 11th grades.


General Comments
Positive Peer Groups' Sounds like an excellent program. I couldn't have designed a better one myself! I am delighted to hear that it works.'  Judith Rich Harris, National Best-selling author of The Nurture Assumption (Touchstone Books)
Administrators' Comments
Peaceful Peers 'It's all about choices. Students can make appropriate choices once they've been given the skills to do so. This program gives the students these skills.'
— L. Knight, Glenbrook Elementary
Positive Peer Groups
'The Positive Peer Groups program is helping at-risk kids find their ways.'
— Kathleen Allo, Principal, Sr. Mary, Akron
REACT Program
'The program provides a very organized and consistent presentation of the ideas of conflict resolution and anger management.'
— Mary Heramb, St. William
Students' Comments Teens Resisting Violence
'Learning how to defuse someone else's anger is a skill that I will need the rest of my life. After taking this class, I feel the change in society and violence will begin with us.'
— Student, Goodrich Middle SchoolSuccessful Teen Living
'I like how we, as a class, discuss everything with each other so that we can hear what others are feeling. Some people can change for the better if they learn to listen.'
— Student, St. Peter Chanel High School
Positive Peer Groups
'I have never been chosen for anything. I love our group. It's the best thing that has happened to me!'
— Student, Metro Catholic
'The facilitator really cares about us and we are even coming in on Saturdays to paint our school. Since before we didn't even come on school days, I'd say that's pretty good.'
— Student, Lake Academy
Teachers' Comments
Teens Resisting Violence
'Making students aware of the effect of violence on society and how the media glorify it AND empowering kids to make a difference is helping ours students meet the challenge.'
— Teacher, Central Middle School
REACT program
'The students relate the material discussed and value the tools to make good choices in uncomfortable situations.'
— Mrs. Bollins, Holy Family, Stow
Positive Peer Groups
'Students are speaking to others about their accomplishments and their group projects. The participants are demonstrating their ability to be leaders for the first time.'
–Karen A. Cery, St. William
The Coordinator of PSI's Prevention and Intervention Initiatives, is Brooke Wright, M.Ed.,. To learn more about how PSI's many initiatives can improve grades, reduce absenteeism, and enhance discipline, please call Brooke at 1-800-841-4774, ext. 237. You can also e-mail her or contact us.