School Health Programs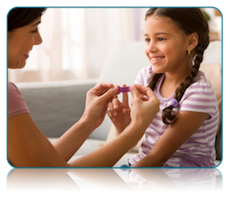 RNs, LPNs, Medical Assistants and School Health Aides
Team PSI's comprehensive health programs meet the unique needs of your school. Many districts can meet their health requirements by using a combination of our services in this area. PSI takes responsibility for your school's health program with the supervision of our school health professionals. Family living instruction and student/ faculty in-services are also available.
PSI's staff takes responsibility for your school's health program.
All registered nurses, practical nurses, and medical assistants are fully credentialed. PSI School Health Aides hold current First Aid and CPR certification, and have demonstrated mastery of the Emergency Guidelines for Schools approved by Ohio Public Safety, Emergency Medical Services for Children, and the Ohio Chapter of the American Academy of Pediatrics.
Why PSI is the right choice
Team PSI's Collaboration Model is a multi-disciplinary approach that increases clinic coverage while containing costs.
Our health providers assist students and staff who become ill or are injured at school.
All health, vision, hearing and other screenings are conducted as mandated by state and local law.
PSI staff takes the responsibility for distribution of medications and maintenance of health records in full compliance with state and federal requirements.
PSI has added Certified Medical Assistants to join your team, a great intermediary for students needing injections, tube feeding or catheterizations. This allows school health care costs to be lowered, at the same time meeting all student needs.
For more information about PSI Health Solutions, please contact us at health@psi-solutions.org or toll free at (800) 841-4774. x226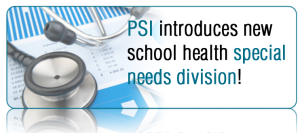 New Health Division
PSI has expanded its School Health Department to include one-to-one nursing services for students in need of individualized and special care.
PSI's new school health special needs division is coordinated by Paula Harris, RN..  Paula has a wealth of expert experience in pediatric and critical care; an invaluable resource to today's schools. Paula works in coordination with PSI's Health Management Team.
If you have any questions about special needs students contact Paula at PaulaHarris@psi-solutions.org.
Meet Meredith Sitko & Lynn Chrostowski
TEAM PSI's SCHOOL HEALTH PROGRAMS meet the individual needs of schools we serve. Our programs help schools fulfill their local, state and federal requirements. A well-balanced allocation of our health services is an economical and efficient way to maintain high quality services.
PSI is responsible for the school's health program, placing highly qualified staff and supporting them with our extensive supervisory infrastructure. Together, it makes for a team effort that places us on the cutting edge.
"My work at PSI is very meaningful with unlimited opportunities," Meredith Sitko says. Colleague Lynn Chrostowski adds, "Working as a nurse or health aide can be daunting, but PSI provides tremendous training, back-up and support. School health nursing is an experience both challenging and rewarding."
For more information about PSI Health Solutions, please contact us at health@psi-solutions.org or toll free at (800) 841-4774.
Attention: PSI Health Aide Employees
Click here to take the Health Aide Exam