Speech & Language Therapy
PSI offers both traditional and alternative Speech Programs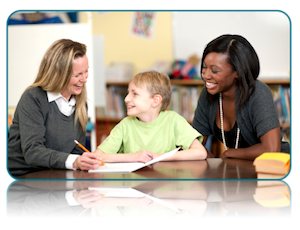 Team PSI's comprehensive speech and language curriculum gives answers to problems. We are ready and well-prepared to evaluate, consult and provide treatment for children with a wide range of speech and language disorders. The communication skills of over 3,500 students have been improved by PSI each year!
PSI SLP's are licensed by the Ohio Board of Speech and Language Pathology. We are also aligned with the current procedures and guidelines of the Ohio Department of Education. These programs are funded through state and federal budgets. Finally, please note that direct, collaborative and consultation delivery services are available using PSI and school professionals. As with all services we offer, PSI partners with you for progress.
Special Note:  PSI will be unveiling its own SLP Tele-Therapy in the Fall of 2016. This service will be available to all parents and schools interested in receiving virtual services with face to face SLP consultation and evaluation. Contact Julie Wood (ext 248) for more information about this exciting new program. 
Julie Wood, Ph.D. is the Manager of PSI's Department of Educational Support Services and is the primary administrator for all of PSI's Speech and Language Therapy Services.  Julie reports directly to Dr Colleen Lorber, the Executive Director of Client Services for PSI.  Julie has a team of SLP Supervisors headed up by Christine Worthington and Anita Michaels. Together they coordinate PSI's Speech Department impacting thousands of students each year.  Julie can be reached at 1-800-841-4774, extension 248.